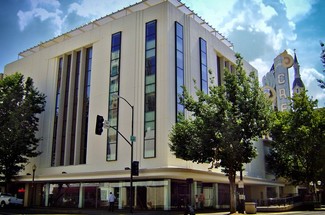 Address: 1001 K Street
Built: Unknown
Stories: 5
Square Footage: Unknown
Last Recorded Sale: Unknown
Owner: Multiple
Historical Significance: Unknown
Current Use: Office Space

Address: 1013 K Street, The Crest Theatre
Built: 1949
Stories: 1
Square Footage: 25,600
Last Recorded Sale: 02/03/2011
Owner: Historic Crest Commercial Center LLC
Historical Significance: The last of the movie palaces in downtown Sacramento, the Crest was originally a vaudeville house named the Empress Theater, designed by Lee De Camp. In 1918 it was remodeled for "moving pictures" and renamed the Hippodrome. The Moderne interior and flamboyant neon marquee date to a 1949 remodeling when it was renamed the Crest. The marquee, recently restored to period accurate colors, is testament to its role as the oldest theater in continuous use remaining in Sacramento.
Current Use: Still in operation showing movies and offering live entertainment.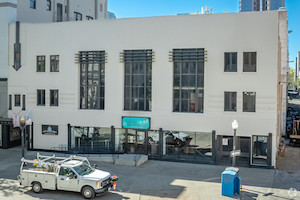 Address: 1020 11th Street, the Ransohoff Building
Built: 1920
Stories: 3
Square Footage: 16,290
Last Recorded Sale: 01/07/2002
Owner: County Supervisors Association of California
Historical Significance: The Ransohoff's Building was constructed for the Mohr and Yoerk Company pork curing business and deli, with the "Parkview Apartments" above. In 1933, the building was remodeled into the Bon March department store and Moderne design elements were added. Architect George Sellon, who designed the California Western Life Building at 926 J Street, may have designed the 1933 remodel of the Ransohoff's Building. Note the Prairie style and Moderne style influences such as wide overhanging eaves, zig-zag bands, and deco patterned accent panels.
Current Use: Until recently, it was the home of Pyramid Ale restaurant. It is now looking for new tenants.